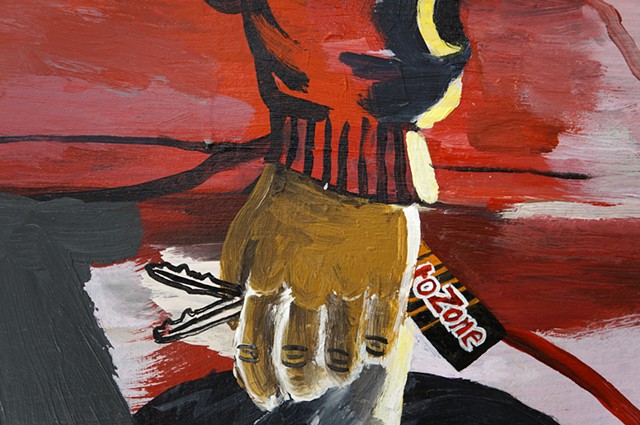 Having spent my formative years in the back-woods culture of guns, 4x4s and meth in Northern California, I find familiar comfort in communities on the margins, and my work reflects my life from these margins, both in subject matter and philosophical perspective. I am interested in how underrepresented experiences made visible complicate dominant beliefs around foundational subjects: gender, race, class, beauty, power, value and morality.
The span of my intimate relationships across social groups makes clear to me the limitations of conversations about culture and power that remain confined to any single demographic. My career as an artist is meaningful to me only insofar as I am engaged with individuals both within and distant from the art world and able to bring these disparate perspectives together. I am particularly concerned with questioning narratives that are accepted as right and good in the academic art world but are rejected on the streets as irrelevant or even counterproductive. My desire for personal and cultural healing compels me to call attention to these disconnects through what and how I paint.
For example, as a white person who includes images of my black family in the hood in my work, I recognize that I am challenging the normalcy of social stratification and current beliefs about who should depict whom. The role of educated middle-class whites in relation to marginalized blacks is commonly relegated to one of patron or sympathizer. I have always felt limited and inauthentic in such proscribed social roles, so I have refused them out of psychic necessity. This freedom allows for real intimacy across social divides. When my relationships become visible in my work, questions about race and representation arise. When the people in the paintings are part of the conversation, viewers must reexamine their own assumptions about class, race, power and whose voices have authority in the discourse around these subjects. Work from the last 4 years contains paintings from time spent in Ferguson, a Louisiana prison, conservative southeastern New Mexico, the hippie idyll of California's north coast and with Rory, my housemate, helpmate, muse, business partner and ex-hustler from the Oakland streets.
While issues of race and class often lead the conversation about my work, I recognize these subjects as constructs emerging out of the human desire for power—mine included. So, a self-reflective investigation of power—its manifestations, its limits, its damage, its antidotes, its masks, its very definition—informs my handling of varying subjects: existential reckoning, observational humor, art historical revisions, media ideals of success, happiness, comfort and romance, portraits of friends and imagined characters, personal experiences. Because I make work for people educated in the arts as well as the streets, I rely on the democratic language of emotion, the figure, accessible imagery, comedy and self-exposure.
My painting process combines premeditation and improvisation in an attempt to find a balance between intellect and intuition that can communicate what I've come to know while allowing for my own perceptions to be altered by chance, mystery or unconscious knowledge. I am always in search of greater awareness, through making the work and through the conversation that arises when it becomes public.
While painting is my primary focus, I also make drawings, books, stop-motion video and sculpture that I exhibit together in multi-media installations.